Stella Beans.
Artist's muse. Pin Up Girl. Sweet as pie pit bull.
Stella is the sidekick to Tara, the amazing artist behind PigDog. Be sure to check out Tara's incredible illustrations and paintings.
These lovely ladies are also featured in the 2015 Pinups for Pitbulls calendar. Pinups for Pitbulls is a non-profit organization dedicated to educating people about the history, temperament and plight of the pit bull-type dog; raising awareness to rally against breed specific legislation and breed discriminatory laws. Be sure to visit their website to learn more about their important work and how you can help.
In preparing for the photoshoot, Stella told me that she wanted to model some stylish glasses so she could look like her mom. You wear them so well Stella! I had so much fun with you and your mom creating your doggy portraits. You are welcome back to the studio anytime. Your 2 boyfriends will be waiting.
Fun Stella Facts
Her best friend is her sister from another mister – a kitty cat
Loves swimming in Grandma's pool and going to the beach
Has one floppy ear although you rarely see it
Likes to sit like a human on car rides with one arm resting out the window
Will not go to bed without her ball and blanky – her equivalent to a teddy bear
Likes to sleep under the covers; will slowly push you off the bed so she can have it all to herself
lastly………was found on the streets of Camden…….thank goodness for people who love and rescue the pit bull breed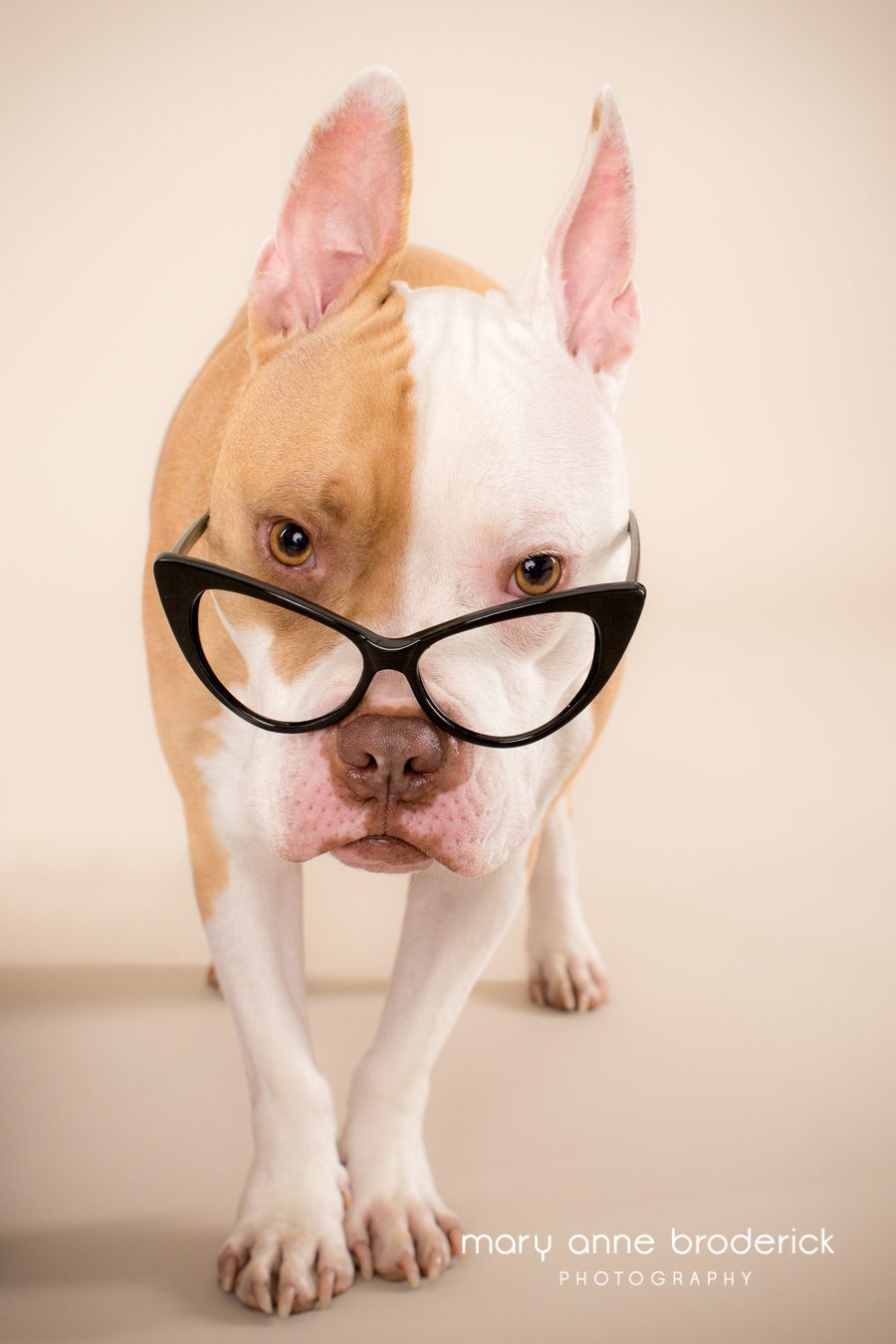 Pin It

Pin It

Pin It

Pin It

Pin It

Pin It

Pin It

Pin It

Pin It

Pin It

Pin It

Pin It

Pin It

Pin It

Pin It

Mary Anne Broderick is a New Jersey pet photographer specializing in dog photography and pet photography. Contact the studio at info@maryannebroderickphoto.com to book your portrait session.
View the personal pages of other pets photographed by Mary Anne Broderick here.
Please leave some love notes below for Stella Beans.